If you have kids, you have birthdays. Lots of them. And they seem to come around before you know it each year! With seven kids I've done my share of parties, from pirate to princess.
One of our birthday traditions with all of our kids were these huge over-sized candles that stand about two feet tall on the table. You burn off the old year and save the remainder for next year's celebration. It takes several hours to burn off a year, the candle is so big. I had one as a child and all my kids did too. It was a real part of making the day special for them (and for me).
I was so thrilled to see the exact same candles are still available!. Our first little granddaughter turns one in just over a month; guess what one of her gifts will be?
21 YEAR BIRTHDAY CANDLE
And to wear on her special day? A darling
1st Birthday T-shirt
Butterfly I'm 1 Birthday
by
kids_birthdays
of
Union Eight
.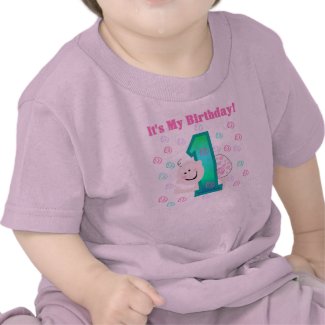 Baby Girl It's My 1st Birthday
by
kids_birthdays
Now, why is this blog post titled Happy Birthday Times Three? Because on Nov. 2nd, our twin sons turn 21 this year. And the day after on Nov. 3rd, our daughter turns 18.
I have made SO many birthday cakes in November over the years (did I mention that my husband's birthday is also in November?). I wanted each one to feel special so they all had their own cakes. Here is a great chocolate buttermilk cake recipe:
Chocolate Buttermilk Cake Recipe
4 sqrs Baking Chocolate
1 cup Butter
2 1/4 cups Granulated sugar
1 1/2 cups Buttermilk or sour milk
3 cups Sifted cake flour
1 tsp Baking soda
1/2 tsp Baking powder
1/2 tsp Salt
5 Large Eggs, separated
1 tsp Vanilla
Oven Temp ~ 350° Baking Time ~ 30 - 35 Min.
Pan Type ~ Three 9 inch round pans
Preheat oven, grease and flour pans.
Melt the baking chocolate over simmering water, and add to the butter and sugar creamed together well. Add buttermilk
and flour which has been sifted with the baking soda, baking
powder, and salt, alternately, then add the well-beaten egg
yolks, and the egg whites, stiffly whipped, and lastly the
vanilla. Pour into prepared cake pans.
Bake.